Campamento de verano English QUEST camp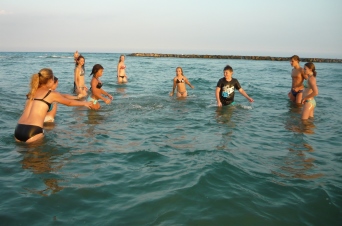 English QUEST camp está situado en Larnaca. Larnaca es un balneario en Chipre que está situado en el sur de la isla. Edad 10-17 años.
Curso de Inglés. English QUEST camp
This programme operates in a modern purpose-built school campus, 7 minutes walking distance from our student residences, with air-conditioned classrooms, music room, art rooms, library, cafeteria , an amphitheatre and a modern sports complex.
Seaside English programme includes many daily activities, games and sports. Participants will also have the opportunity to improve their English language skills by attending classes led by experienced teachers of English.
Campamento de verano. Activities
• Guided Tours of Larnaca, Lefkara Village…
• Canoeing, Windsurfing, Football, Archery, Yoga, Zumba
• Movie nights, Drama , Crafts and Arts
• Beach BBQ party, Bowling
• Scavenger Hunt, Larnaca bay Yaught tour, Shopping…
• Leisure activities are varied, safe….. and fun!
English Quest Camp. Alojamiento
English Quest Camp offers students accommodation in a three star hotel apartment with four star comforts in Larnaka centre, 2 minutes walk to the main beach of Finikoudes (Palm tree promenade). They have the option of staying in a twin or 3-bed apartment, all with private WC and bathroom.
Campamento de verano. Larnaca - Chipre
Registration fee - 50€
Seaside English & Fun - 690 € / weeks
Seaside English & Mountain Adventure - 1345 € / 2 weeks
Curso de Inglés
- 20 lecciones de inglés general por semana
Registration fee - 20€
study in a group - 160 € / weeks
individual lessons - 825 € / 2 weeks