English Language Courses in ELC Edinburgh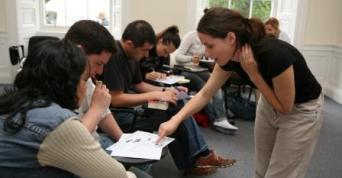 General English
We can offer General English courses suitable for all levels and abilities, which focus on improving students' vocabulary, pronunciation, speech, writing and confidence in English.
Cambridge Exams
Our Cambridge Examination courses will prepare you with the skills necessary for these globally recognised exam papers – reading, writing, use of English, listening and speaking.
IELTS
The Academic IELTS (International English Language Testing System) Examination is essential if you wish to study at a British University or College. The examination consists of four parts – speaking, listening, reading and writing. The ELC IELTS examination course will prepare you in all four areas.
Business English
Our Business English courses concentrate on improving your English for use in a business environment. It's ideal for those studying business or planning to work in a job that will require a good command of the English language.
Cultural Programmes
Every summer, our 'Edinburgh Festival Course' allows students to combine General English with the chance to experience the Scottish capital's globally famous Edinburgh Festivals, including the Edinburgh Festival Fringe, which is the largest arts festival in the world.
English for Professionals
Our English for Professionals courses are targeted at business executives whose first language is not English. Working one-to-one with a tutor, or in a small group, this course is tailored to the students' needs and designed to deliver accelerated progress.