Secondary Education in King's College - Spain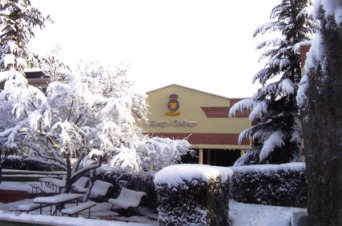 Secondary Education
King's College, Soto de Viñuelas, Madrid is one of the top British schools in Europe,and is a member of COBIS as well as being the only HMC school in Spain. Founded in 1969, it now has over 1400 day and boarding pupils from the ages of 2 – 18 at its site in the countryside just north of Madrid.
King's College, Soto de Viñuelas, has high academic standards and the official examination results show that the school is on a par with the very best independent schools in the UK, with students graduating into top universities in Britain, USA and Spain amongst others.
King's College has a safe, scenic and spacious campus, located only a short train ride from beautiful and historic Madrid. Pupils live and work with other students who represent an unparalleled diversity of geography, religion, race and economic circumstance. Whether boarding or commuting, students share the campus and its many resources, learning community responsibility and self-discipline.
Education Programmes:
GCSE (General Certificate of Secondary Education)
A-Level
Summer camp
Fees per term(Boarding) - 7 333€