Summer in Prague - Czech, English or German language course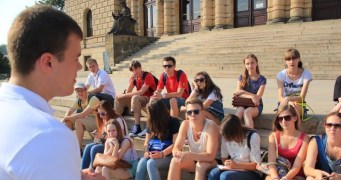 The International Union of Youth offers you a unique one-month summer course the main aim of which is to learn or improve your Czech skills and introduce rich history and culture of the Czech Republic.
It is an excellent opportunity to combine an unforgettable journey to the center of Europe – Prague, and courses of foreign language.
The whole language program is focused on the improvement and development of your Czech skills and practicing it with teachers - native speakers and other international students. Prague is the capital and the largest city of the Czech Republic, as well as the cultural, creative, and entertaining center of Europe. It is a great place for youth!
Academic hours:
• 85 hours, 4 hours of studies 5 times a week
Courses:
• Czech, English or German language
Summer course is held in the following period:
• 01.06 — 30.06 • 01.07 — 30.07 • 01.08 — 30.08
Accommodation:
During the program students are staying in hotels Jarov and Villa MSM (U Svobodarny), Massarikov dormitory.
The International Union of Youth prepared the most exclusive way to spend summer holidays – study along with active sport and eventful vacations!
After finishing the program students will get the Certificate of Achievement.
Fees
The fees for the Summer in Prague courses are as follows:
• Czech language – 1450 EUR
• English or German language – 1550 EUR