Learn & Study the Spanish Language in Chile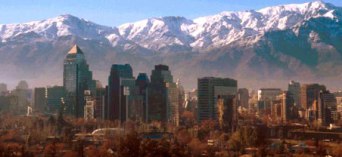 Chile - a long, narrow strip of land that reaches out toward the mystifying southern tip of the world - is enclosed by the Pacific to the west and the Andes to the east. Much like Argentina and Uruguay, Chile's population is mainly descendant from Spaniards and other European immigrants.
Learn the Spanish language in Chile and enjoy a true paradise for nature lovers. The country's astounding geographical and climatic diversity includes pristine beaches, active volcanoes, glistening lakes, colorful deserts, damp forests, the ice fields and glaciers of Patagonia and the peaks of the Andes.
With the world's longest hiking trail and longest coast, mountains as high as 23,000 feet and painstakingly engineered ski slopes, opportunities for kayaking, fishing, bird-watching, white-water rafting, scuba diving, biking, horseback riding, mountaineering and more, you'll never run out of exciting activities to do between Spanish classes!