Learn Spanish Language in Costa Rica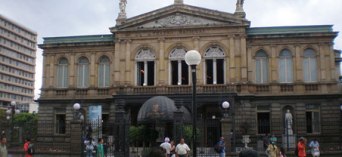 Costa Rica is a small country of about 4 million inhabitants with the highest GDP per capita of any Central American nation. An oasis of tranquility, Costa Rica is renowned for its dedication to wildlife conservation. Tourists the world over have increasingly flocked to this country in recent years to explore its pristine beaches, marvel at tropical forests and explore trails where white-faced monkeys, sloths, iguanas, stunning flowers, rare plants and other wonders abound. Surfers, adventurers and nature lovers are known to find a common love for this gorgeous land and never look back.
The culture in Costa Rica has various influences: only 1% of the country is of indigenous descent, and the rest are a mix of mostly white and mestizo ethnic groups. Afro-Caribbean culture is present in music, dance and food, lending its colorful traditions and cuisine to the modern influences of a growing economy and infrastructure.
"PURA VIDA" – pure life – is Costa Rica's widespread motto. When you learn Spanish here, you'll discover what it's all about.