Learn and Study the Spanish Language in Cuba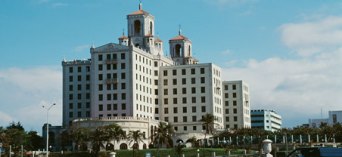 Dance to the rhythms of salsa, guajira, son, rumba, mambo, conga and cha-cha-cha; taste the sweet and salty flavor of fried plantains or the hearty satisfaction of a good plate of rice and beans; wash it all down at the end of the night with a refreshing, minty mojito and you've got Cuba, a vibrant multicultural melting pot of colors, flavors, music and people.
Learn the Spanish language in Cuba
the largest Caribbean island and a beautiful country bursting with lively traditions and about 11 million of warm and welcoming inhabitants. Life carries on at the pace of any hot Latin society – in other words, there's no hurry – and you can take advantage of this relaxed pace to visit the island's beautiful beaches or chat with other smiling faces in any number of public plazas.
Despite Cuba's current economic and political difficulties, the warmth of the island radiates from the Caribbean sun and contagiously spreads to all those mixed up in its day-to-day life.