Spanish Schools in Cuba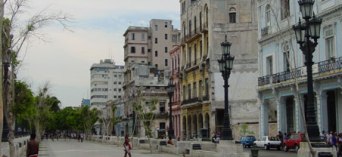 Spanish School in Havana. Cuba
Enforex Havana is unique in that we do not have a central school. Instead, we provide an intimate, personalized learning environment organized by our well trained, highly educated teachers of Spanish as a foreign language.
Classes are held either in the teacher's home, in the house of the host family or, for certain mini group courses, in a cultural center. All homes and centers are located in Vedado, a safe, residential area of the city of Havana full of Art Deco buildings and murals by famous Cuban artists.
Spanish School in Santiago de Cuba
Our Spanish school in Santiago de Cuba is an alternative setting: we do not have a central building. Instead, classes are held either in a cultural center, the teacher's home, or at the house of a host family. This guarantees you small learning groups in a comfortable, personalized environment.
Although the physical space for classes is less structured than other schools, you can still count on a highly organized program. The teachers are all qualified to teach Spanish with years of experience.
All homes and Spanish classes are located in the "Reparto Sueño" neighborhood, a safe, hospitable area.
Spanish School in Trinidad. Cuba
All of our host families and Spanish language classes in Trinidad are located in the city center. Rather than studying at a centralized Spanish school, you will take classes in small groups either at the home of a teacher or host family, or at a cultural center.
The teaching staff is made up of experienced professionals with university degrees specialized in teaching Spanish to foreign students.