Spanish School in Pamplona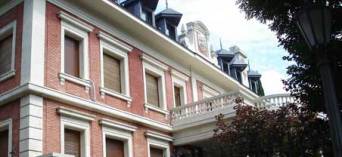 Our Spanish school in Pamplona is a magnificent setting to spend your educational vacation in Spain. We occupy the top floor of the city's prestigious medical school. From the building's elegant façade to its spectacular, glass-enclosed restaurant, you'll find that old world beauty meats modernity in our comfortable classrooms and library equipped with Wi-Fi and free Internet access.
Minimum student age: 17 years old
Location. Spanish school in Pamplona
• 5 minutes walking from the city's central square, "Plaza de Castilla"
• Occupies the top floor of the "Colegio de Médicos"
• Next to "Parque de la Medialuna," with beautiful park views from the school
Facilities
• 7 classrooms
• Resource center with library
• Wi-fi; 4 computers with free internet access in the library
• Offices / reception area
• Elevator / handicapped access
• Roof terrace
• Air conditioning and central heating
• Convention center for 300 people in the building
• Film center
• Cafe
• Incredible restaurant set in a converted greenhouse; discounted 3-course lunch for students
• Separate learning center to accommodate more students when necessary: 5 classrooms, common area, library, film and multimedia rooms