Learn English in Bournemouth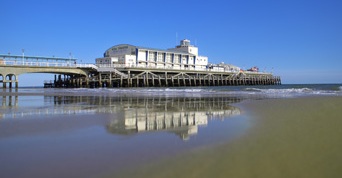 Bournemouth is a holiday town with a reputation for being sophisticated and vibrant. The town is a regional centre for commerce, with 2 universities, and is a unique and popular place in which to live and study throughout the year.
There is a vibrant nightlife with a wide range of quality entertainment, including cinemas, concerts, theatres, night clubs, bars and restaurants. Our shops cater for all tastes.
Bournemouth is also famous for its 7 miles of sandy beaches, beautiful parks and gardens, and its cosmopolitan atmosphere. There is also easy access to many regional cultural attractions.
Bournemouth International Airport has daily flights to numerous European destinations and there are daily sea ferries from Poole to France and the Channel Islands.
Travel Times
Express Coach:
From London Heathrow Airport: 2 hours 24 minutes
From London Gatwick Airport: 3 hours 30 minutes
From London Stansted Airport: 4 hours
From Portsmouth Ferry Terminal: 1 hour 20 minutes
Rail:
From London Waterloo Station: 1 hour 40 minutes
From Southampton Airport Station: 38 minutes
Road:
Transfer by car with a personal welcome:
From London Heathrow Airport: 1 hour 30 minutes
From London Gatwick Airport: 2 hours
From Southampton Airport: 30 minutes
From Bournemouth Airport: 15 minutes