English Language School in Cambridge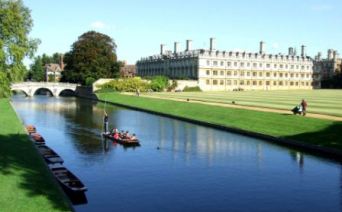 Learn English in Cambridge - Select English
One of the busiest tourist spots in the country with over three million visitors a year, Cambridge is also famously home to the University of Cambridge, one of the world's most prestigious universities, itself a source of much of that tourism. With some colleges, such as Peterhouse, dating back to the eleventh century and all schools of architecture - from Gothic to Modern - represented, the city is a magnet to anyone with an interest in British history.
This, coupled with the traditional sights of punts, May Balls and cyclists, helps to create a romantic image of Cambridge that is known the world over.
The peaceful rural city (then a relatively small town) was chosen by thirteenth century monks as a more tranquil place to study than busier Oxford, and this move sowed the seeds for what was to become Cambridge University.
In terms of leisure activities the city has more than it's share of pubs and clubs to choose from, some of which date back centuries like the Pickerel - supposedly the oldest pub in town - but if you seek something more enlightening there are also many options: Kettle's Yard, a small intimate gallery, showcases modern art and ceramics; the museums of Zoology and Anthropology on Downing Street are hidden treasure troves; in early July local artists in the Open Studios scheme open up their work-spaces to the public to exhibit their work. Arts venues such as the Junction and Corn Exchange offer an eclectic blend of live music, theatre and comedy, so there really is something for everyone.