Spanish School in Peru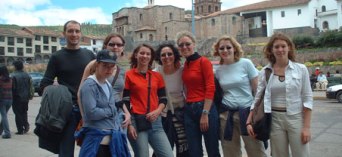 Spanish School in Cusco. Peru
Enforex Spanish school in Cusco is set in a lively district, very close to the Plaza de Armas, a popular meeting place and center of city activity. It's a small school with a capacity for 60 students, so you'll receive personal attention with a staff eager to help you make the most of your time at our Spanish school.
Location
• The main post office, internet cafes, banks, money exchanges and more are right in the school's vicinity
• About four blocks from the main square, the "Plaza de Armas"
• Restaurants, cafes, historical buildings and museums all around
• Just a few steps from the most important Incan sight in Cusco, the Qorikancha (Temple of the Sun)
Facilities
• A beautiful, 19th century colonial-style home set on a charming plaza, Limacpampa Grande
• 2-story building
• 17 classrooms
• Indoor patio
• Video room
• Auditorium
• Entertainment room