Spanish Schools in the Dominican Republic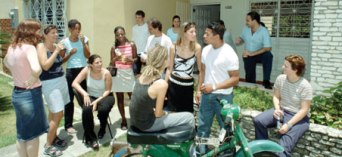 Spanish School in Santo Domingo
Our Spanish school in Santo Domingo organizes excursions with local students such as hiking, cultural visits, tennis, dancing and more. Feeling insecure about your dance moves? No need to worry – you can enjoy salsa and meringue classes right in the comfort of school with your new international friends.
• Minimum age: 16 (with letter of permission from parents or guardians).
• Partner school
Location
• Set right in front of the island's largest university
• The school is surrounded by bustling student activity and cafes. This prime placement makes it easy to get to know native Dominicans and practice your Spanish inside and outside of school.
• A 10 minute bus ride to the city's historic Colonial Quarter where museums, theaters and restaurants abound.
Facilities
• A garden and terraces where students meet to socialize • 3 outdoor classes • 2 indoor classes with ceiling fans • Access to the university library across the street
Spanish School in Sosua
Our Spanish school lies in the city's eastern section, "El Batey." It's just a short walk from here to the city center and to Sosua's principal beach. Our grounds are covered by tropical trees providing natural shade on 4 terraces, where outdoor classes can be held. Both Dominican students studying German or English and international students studying the Spanish language socialize, relax and practice languages in our outdoor garden, equipped with comfortable lounge chairs and a ping pong table. Indoors classrooms are simple and cozy. Additionally, a communal, open-door kitchen adds to the center's familial atmosphere. The school is equipped with computers for free internet access, as well as wi-fi for those who bring their own laptops.
Location • In the "El Batey" part of town
• Short walk from the center of town as well as from the main beach