Spanish Schools in Argentina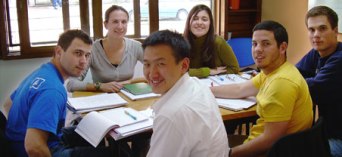 Spanish School in Buenos Aires
Enforex Spanish School in Buenos Aires boasts a prime location and excellent facilities. It's right in the center of the city, so even though Buenos Aires is large, you'll have no problem finding a bus or metro in the vicinity to get where you need to go
Spanish School in Bariloche
Nine hundred meters from the Civic Center and right in the middle of downtown is where our cozy Spanish language school in Bariloche, Argentina, has made its home. The school staff is composed of a team of teaching professionals dedicated to implementing the most effective teaching strategies in an encouraging environment.
Spanish School in Cordoba
Our Spanish school in Cordoba is a 2-story building conviently located downtown, 5 minutes away from ´Plaza de San Martín´, the city's main square. The school staff is dedicated to creating a friendly, personalized atmosphere to make you feel at home.
Spanish School in Mendoza
Our Spanish school in Mendoza prides itself on offering a full schedule of events and activities such as city tours, visits to the Escorihuela winery, barbeque lunches, folk music, tango, and more. As with all Enforex schools, it's centrally located, spacious and comfortable.