Spanish Schools in Mexico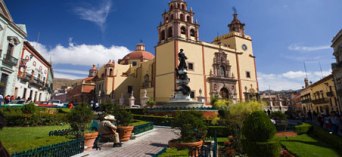 Spanish School in Guanajuato. Mexico
Our Spanish school in Guanajuato is a comfortable and professional building for studying Spanish. Our students love to enjoy the city's beautiful climate on the outdoor patio and terrace, while the indoor facilities include a great multimedia room. The school is not directly in the city center, but Guanajuato is so easy to get around that everything of interest is still within walking distance.
Spanish School in Oaxaca. Mexico
The Spanish school in Oaxaca could not boast a better location. It's set just 4 blocks from the heart and pulse of the city, the ´Zócalo´ square. Students love the large patio for hanging out between classes.
Spanish School in Playa del Carmen. Mexico
At our Spanish school in Playa del Carmen, classes can be held outside under thatched roofs amidst our own tropical gardens, so you can enjoy the full Caribbean experience. We organize a number of activities and excursions like horseback riding, windsurfing, yoga, movie sessions, cooking classes, snorkeling, beach volleyball and trips to historic Mayan sites.
Spanish School in Puerto Vallarta. Mexico
When you sign up for a Spanish course in our school in Puerto Vallarta, we know you won't want to be far from the beach! That's why our school set up shop just 1 block from the ocean which, incidentally, is the town's historic district. Another great benefit you can enjoy at Enforex Puerto Vallarta are our facilities for salsa and cooking classes.