Granada Summer Camp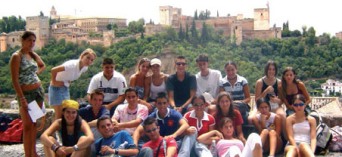 Ages: 14 to 18 years old
Capacity: 180 students
International students only
75% supervision
Special Junior Program
The Granada Junior Program differs from other summer camps in that students live and study on two separate campuses. Accommodations are in an Enforex residence or with a host family. The school is located at a maximum of 20 minutes from the accommodation.
Arrival is on a Sunday, and on that day students will get settled into their host family or residence room. On the first Monday morning, students will take their first trip Spanish school to complete a level placement test, and then go on a supervised tour of the city to become acquainted with Granada's main attractions.
Spanish classes are held every weekday morning from 9:00am to 1:00pm. After classes, students will return to the residence or family and enjoy a typical Spanish lunch. The afternoons and weekends will be filled with activities or excursions like sports, swimming and other recreational activities.
The accommodations, activities and excursions are all supervised by counselors.
International Summer Camp & Junior Program Prices
July - 1500€/2weeks
July - 2650€/4weeks
Granada Summer Camp Extra week
July - 695€
Airport Pick-Up
1 person - 85€, 2 or more people - 55€