Salamanca Summer Camp. Language Camp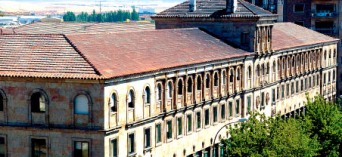 Ages: 5 to 18 years old
Capacity: 250 students
International & 60% Spanish Students
100% supervision
Salamanca Language Summer Camp. Location
Salamanca is a scenic, gorgeous city, declared the European Cultural Capital for 2002 and protected by UNESCO as a World Heritage Site. This impressively maintained medieval town is also one of the most youthful areas in Spain; home to the second-oldest university in the world, it continues to attract international students from all corners of the globe.
Summer Camp in Salamanca. Facilities
The Colegio Calasanz is a typical salmantino building constructed around a tranquil courtyard in the shape of a U. The school's 5 floors contain classrooms, a large conference room, a video room, a computer room, student residences, a dining hall, an infirmary and more.
International Summer Camp & Junior Program Prices
2 weeks 

4 weeks

6 weeks

1 week

July

Aug

July

Jul/Aug

Aug

1 500 €
1 440 €
2 650 €
3 500 €
660 €
Optional Sports / Sports Camp
Tennis - 169 € per 2 weeks(5 hours per week)
Horseriding - 169 € per 2 weeks(4,5 hours per week)
Summer Camp in Salamanca Extra week
July - 695, August - 660€
Airport Pick-Up
1 person - 85€, 2 or more people - 55€