Malaga Summer Camp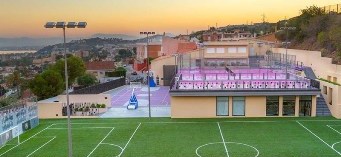 Ages: 5 to 18 years old
Capacity: 170 students
Malaga Summer Camp. Location
Unamuno school is located in one of the most exclusives and residential areas of Malaga, not very far from the beach, just a few minutes away by public transportation. It is a wonderful location to arrange many excursions not only around Malaga city centre but also to different interesting locations around in the outskirts and other provinces.

Courses Malaga Summer Camp
• Spanish (20 lessons per week)
• English (20 lessons per week)
Programs Summer Camp
• Residential
• Homestay (not for Spanish students)
• Day Camp
• English classes only
Summer Camp Accomodation
Comfortable accommodation is an essential part of your study trip and we understand how important it is that you choose the option that best suits your needs. In this school you can will be accommodated in double and triple rooms ensuite.
Students older than 15 will also have the chance to reside in a home stay. All of the buildings in the school have Wi-Fi internet connectivity
Summer Camp Activities
We offer daily recreational and cultural activities, also workshops. The main objective of these activities is to promote interaction among international students and nationalities.
• Beach • Swimming pool • Games • Theme parties • Half day trips • Workshops
Precios - 1.490€ / 2semanas
Semana extra - 695€