Madrid Summer Camp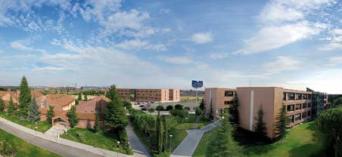 Ages: 5 to 18 years old
Capacity: 120-180 students
International & 60% Spanish Students
100% supervision
Madrid Summer Camp. Location
The Madrid summer camp takes place in the main residence hall of the Francisco de Vitoria University, one of the most prestigious universities in Spain. The campus, which is spacious and characterized by trees and green spaces, is located just outside of Madrid on the Carretera Pozuelo - Majadahonda, Km 1.8.
Summer Camp Facilities
The residence where the Madrid camp is held offers superb facilities to program participants, including student lounges, a common TV room, study rooms, a gym, a dining hall and a computer lab, where students can use the computers, go online and check their email. Furthermore, the university campus boasts excellent athletic facilities that we use during our camp sessions; highlights include a football field as well as tennis, paddle, basketball and multi-purpose courts.
International Summer Camp & Junior Program Prices
July - 1590€/2weeks
July - 2825€/4weeks
Optional Sports / Sports Camp
Tennis - 169 € per 2 weeks(5 hours per week)
Horseback Riding - 169 € per 2 weeks(4,5 hours per week)
Swimming - 95 € per 2 weeks(4 hours per week)
Summer Camp in Madrid. Extra week
July - 785€
Airport Pick-Up
1 person - 85€, 2 or more people - 55€