SPECIAL PROGRAM "THE ARSENAL WAY"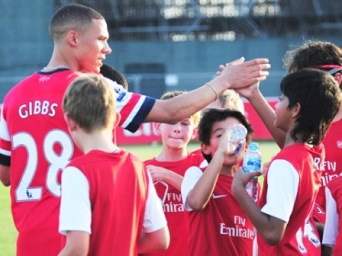 Would you like to learn how to play soccer with coaches from one of the most famous team in the world?
Would you like to show your teammates that you're the best player when you get back to class? Then do not hesitate and sign up for this program.
Enforex Summer Camps in Marbella and Valencia
offer you the opportunity to practice soccer with Arsenal Soccer Schools. You will receive an official certificate at the end of the program! Make your dream of being the best soccer player come true this summer!
Our Language Summer Camp courses
are organized into 20 lessons per week, with 4/5 lessons every day, Monday through Friday. Each class lasts 45 minutes and there is a maximum of 14 students per class in order to ensure individualized attention. The carefully designed curriculum emphasizes conversation and communication, so that students may take full advantage of their surroundings and apply what they're learning by speaking with friends during the rest of the day.
2 daily hours of soccer, Monday through Friday! Coaches who have been accredited by Arsenal School Spain will give soccer training sessions in English and Spanish. These sessions will strictly adhere to Arsenal School Spain's training methods, focusing on techniques such as: passing, dribbling, shooting, offense, defense… Training will also include warm up activities, games, and practice matches.
• Accommodation in the camp, full board (3 meals and a snack daily)
• 20 weekly Spanish lessons, from Monday to Friday
• 2 hours per day of soccer training, from 15:30 to 18:30.
• Certificate and Arsenal Soccer uniform
• Report card from counselor and language teacher