Marbella Albergue Camp. Language Camp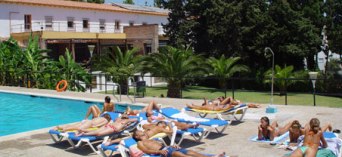 Marbella "Albergue" Marbella "Alborán" Marbella "Alemán"
Ages: 16 to 18 years old
Capacity: 180 students 100% supervision
International & 60% Spanish Students
Language Camp
The camp's proximity to the center of town makes it the perfect setting for our older, independent students. Participants ages 16 to 18 complete a solid program of 4 language lessons per day, plus sports, workshops and excursions. We also permit variable curfew times and the option of leaving campus with groups of friends for the most mature students. Our Colegio Albergue campers become integrated into the city's daily rhythm and goings-on, with the added benefit of being only 10 minutes away from the beach at any given moment!
Summer Camp in Marbella Albergue Camp
The Marbella Albergue Camp is a large, fenced-in complex set in a peaceful neighborhood. The main building includes a 24-hour reception desk, vending machines, a public phone, a dining room, a TV/video room, and 3 different conference rooms that fit either 20, 30 or 60 people. Outside, students can enjoy a large swimming pool, 3 multipurpose sports fields, tennis courts, expansive green gardens and an open-air terrace.
International Summer Camp & Junior Program Prices
July - 1590€/2weeks
July - 2825€/4weeks
Optional Sports / Sports Camp
Tennis - 169 € per 2 weeks(5 hours per week)
Horseback Riding - 169 € per 2 weeks(4,5 hours per week)
Golf - 255 € per 2 weeks(8 hours per week)
Paddleball - 169 € per 2 weeks(5 hours per week)
Extra week July - 785€
Airport Pick-Up
1 person - 85€, 2 or more people - 55€