Marbella Alemán Camp. Language Camp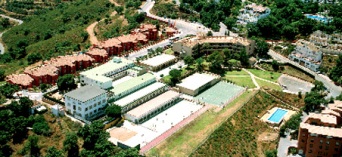 Marbella "Albergue" Marbella "Alborán"
Marbella "Alemán"
Ages: 5 to 13 years old
Capacity: 220 students
International & 60% Spanish Students
100% supervision
Marbella Alemán Camp. Location
The Marbella Alemán Camp is located on a hilltop 12 km (19 miles) from the center of Marbella, facing the renowned Hotel Don Carlos. Set in one of Marbella's nicest residential areas, the Colegio Alemán is a very prestigious school with the finest facilities. From either side of the 30,000 m2 campus you can view a different coastline – either Marbella or Estepona – and the beach is just 6 km (4 miles) away.
Language Camp. Facilities
The Colegio's principal building houses the student residences, dining hall, a conference room, a canteen, an infirmary and various common areas. Classrooms are located in a separate building, adjacent to the sports center. Our wide range of facilities includes an indoor/outdoor multipurpose center, a pool, extensive gardens, a soccer field, 2 volleyball courts, a basketball court and a handball court.
International Summer Camp & Junior Program Prices
July - 1540 €/2weeks. August - 1440 €/2weeks
July - 2825 €/4weeks. August - 2550 €/4weeks
Optional Sports / Sports Camp
Tennis - 169 € per 2 weeks(5 hours per week)
Horseback Riding - 169 € per 2 weeks(4,5 hours per week)
Swimming - 95 € per 2 weeks(4 hours per week)
Golf - 255 € per 2 weeks(8 hours per week)
Paddleball - 169 € per 2 weeks(5 hours per week)
Marbella Alemán Camp Extra week
July - 785€, August - 660€
Airport Pick-Up
1 person - 85€, 2 or more people - 55€